Leaking A/C Coils?
Although "steam" is in our company name, don't hesitate to give us a call if your cooling coils are in need of help too. We can offer you coils for steam, water/glycol, hot oil, air, you name it. We can even field measure and install for a complete turnkey project.
CALL TODAY 1-800-821-4203



Building Expansion
Well the ground is broke as they say.... While the weather isn't exactly cooperating, we are well on the way to doubling our fabrication capabilities. Just before the footers were poured, it looked like we were building a moat.
This again is in response to our customers need for more and larger skid packages and pressure vessels. With the building expansion, we've also added two large material handling cranes and some "increased capacity" air filtration equipment to enhance our working environment. This expansion is going to help us keep our edge on our competitors by maintaining our quick delivery capabilities.
Steam Coils Repair/Replacement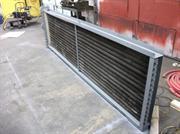 We have always been a key player in steam coil replacement. We have recently been involved in a large retooling of very large coils for a steel mill. These coils came to us with leaky tubes, bent fins and significant fouling. Rather than feeding these to the recycling folks, we were able to bring them back to nearly new condition with a modicum of labor and expertise. Of the 15 coils that would have typically been scrapped we were able to save twelve of them for spares to be put back into use.